El proximo 10 de Febrero Nexon anuncia grandes cambios en Maplestory y la primera celebracion de Mardi Grass. Hablaremos en detalle de todo para que tengas claro que hacer luego del parche.
  Lo primero : Update .82 Maplestory
MapleStory will be going through a scheduled game update on Wednesday, February 10th, 2010. 
This update involves all game servers, and will last for approximately 6 hours.
 
<MapleStory Update>
 – Server : All Game Servers
 – Time : 
    Pacific: Wednesday, February 10th, 2010, 12:00 AM ~ 6:00 AM
    Eastern: Wednesday, February 10th, 2010, 3:00 AM ~ 9:00 AM
 
Esto seria de 5:00 AM a 11:00 AM GMT -3 (Hora Chilena)
 Nueva forma de Loguear en Maplestory desde el 10/02/2010
Logueo desde la web:: Vivi esta experiencia con Pop Tag, en donde tu entras a la web, te logueas, y hay un boton grande al lado del Login que dice "Start Game" al cual das click y entra al juego, de modo que no ocuparemos mas el launch, sino que:
WEB> LOGUEO > JUEGO
Reemplazo del Codigo Pin por Pic: Nuestro antiguo codigo Pin queda obsoleto por uno de mayor numero llamado PIC (Personal Identification Code), despues del parche del dia 10 de Febrero que pasamos a la version .82, al entrar el juego te pedira que crees tu codigo PIC que esta vez tiene diferente formato mucho mas enriquecido:
– PICs tiene entre 6 a 16 caracteres
– PICs usa letras y numeros que son sensitivos (Reconoce minuscula y mayuscula)
– PICs se ocupa en el screen de seleccion de tu CHAR.
Mardi Grass, una fiesta que por primera vez celebrarara Maplestory. Para activar la quest, solo debes hablar con GAGA y debes juntar lo que mas puedas de Mardi Grass Bead Necklace y podras recibir alguna de las siguientes mascaras: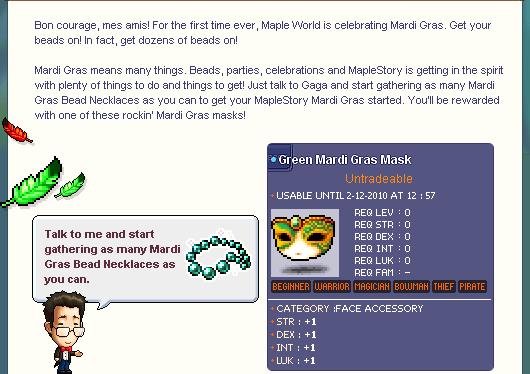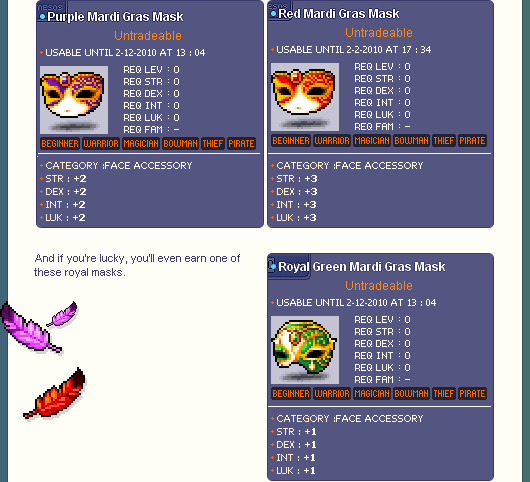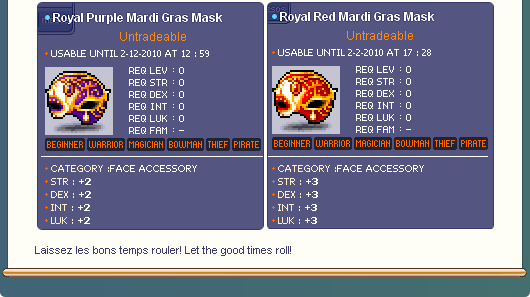 Lo demas que se agrega son items de Cash que no mucho importan 😉
Fuente: Maplestory Oficial Global