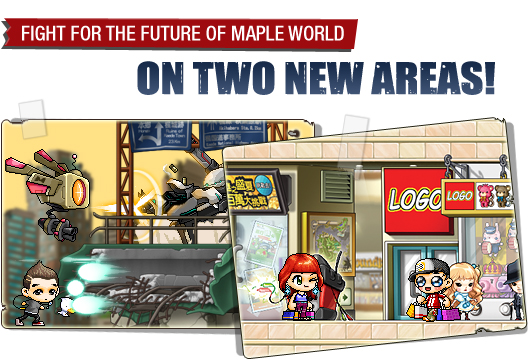 Que tal amigos, al fin Nexon liberara parte del tan esperado NeoTokyo, intentaremos en el futuro mostrar mas en detalle lo que viene en los nuevos mapas. No nos hagamos muchas ilusiones aun, de seguro no vendras grandes Bosses aun, pero si nuevas areas de training para level's moderados.
Entre lo mas destacado de este parche es que sacaran a los NPC's Cesar y al del Dojo de MuLung para dar paso a una puerta de la Dimension en donde entraras directamente a Ariant Battle Arena, Mu Lung Dojo, Monster Carnival 1, Monster Carnival 2, Nett's Pyramid, and Abandoned Subway. Toda una ayuda para simplificar las cosas 😉
En cuanto al dia y duracion del Parche es lo siguiente:
Parche pospuesto hasta nuevo aviso >.<
http://maplestory.nexon.net/WZ.ASPX?PART=/News/View&boardNo=100&contentNo=006Ec
Bien largo el Parche, esperemos no demore mas que eso.
Pueden opinar y mantenerse informados tambien en nuestro foro de Maplestory y/o opinar sobre este tema en: [Game Update] v.83 Year of the Tiger
Last news:
<MapleStory Update>
– Server : All Game Servers
– Time :
Pacific: Monday, February 22nd, 2010, 12:00 AM ~ 10:00 AM
Eastern: Monday, February 22nd, 2010, 3:00 AM ~ 1:00 PM
Parche hoy Lunes de 5:00 a 15:00 GMT-3 Hora Chilena.