Miko nuestro embajador en el lejano Yellonde nos comenta:
Wow… que horribles son los gringos, cito textual lo que dice nexon sobre las pets: "In Maple World pets are the best accessories to compliment your look (En el mundo maple las mascotas son el mejor accesorio para complementar tu look)" En fin…vamos con lo principal
NO es el día de la Raza, tampoco el de acción de gracias, pero aquí si hay descuentos, así que leeme y toma asiento!


Desde el 1 al 7 de Septiembre del 2010, algunos accesorios más importantes para las pets estarán en descuento, así podrás dejar bien chocha tu maschota…mascota
, he aquí los items con sus respectivas rebajas!!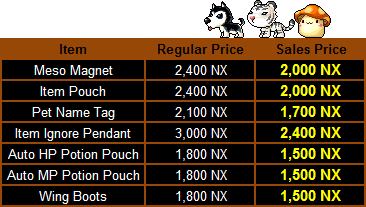 Que cool no?
Ven a discutir con otros Mapleros el tema del Paraiso de Mascotas u otros mas en el foro de Maplestory.