HOT TIME
Sábado, 16 de julio
14:30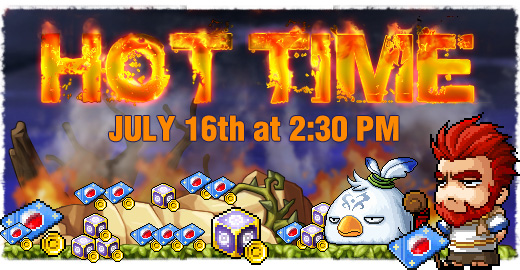 Verano y el HOT TIME está de vuelta en MapleStory! Este sábado, 16 de julio, todos los Maplers que se conecten desde 14:30-14:31 del Pacífico recibirán los siguientes elementos

Miracle Cube,  Gachapon Ticket, y Unidentified Love Letter.
También tienes la oportunidad de obtener cualquiera de estos elementos adicionales:
I'm a Lucky Guy Medal
10 Owls of Minerva
Chalkboard (7 Days)
Aura Ring (7 Days)
11 Hearty Party Bears
5 Wheels of Destiny
3 Safety Charms (7 Days)
10 Miu Miu the Traveling Merchant
Summer Store Permit (30 Days)
Hourglass (7 Days)
Face Coupon (REG)
One-Time Cosmetic Lens – All Colors Timeless weapons
Blue-Hearted Quote Ring
Pink-Hearted Quote Ring
Kitty Quote Ring
Scoreboard Quote Ring
Chocolate Label Ring (30 Day)
Blue-Ribboned Label Ring (30 Day)
Pink-Ribboned Label Ring (30 Day)
Pink Candy Label Ring (30 Day)
5 Megaphones
5 VIP Teleport Rocks

Entra antes y ganar más!
Asegúrate de llegar temprano y quedarte a tomar ventaja de la EXP 2x y el evento Drop!
16 de julio 2011 14:00-16:00 del Pacífico (17:00-19:00 del Este)
* Se aplican algunas restricciones en el HOT TIME. Para participar, debes:
– Disponer de un personaje que es el nivel 13 o superior.
– Disponer de espacio en tu inventario para recibir el artículo.
– Conectarte en el minuto entero de 14:30-14:31 del Pacífico.
– Estar en el mapa principal de una ciudad o un mapa de la caza que regularmente es accesible.
– Asegúrate de que su personaje está vivo.
Momentos antes del HOT TIME y un poco después, por favor, no participar en ninguna actividad – relajarse!
– No cambie de canal.
– No participar en ninguna misiones.
– No entre en la tienda Cash o MTS.
– No hables con los NPCs o Gachapon uso.
– No utilizar el inventario o el almacenamiento.
– No administrar tu lista de deseos de la boda.
– No entre en una mini-mazmorra.
– No utilizar un barco u otro método de tiempo de tránsito entre las localidades.